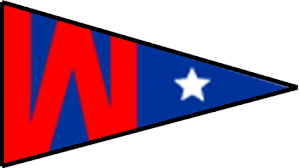 While I was a student at the University of Wisconsin at Madison, Wisconsin I often walked by the lakeshore of Lake Mendota near the UW Memorial Union. There were always lots of boats there. I had assumed, at the time, that those boats were only for use by the UW Athletic Department. Boy, was I wrong! (I should have known better: a friend of a friend belonged to the Hoofer Sailing Club – and had managed to break her leg on some worn out decking.)
The University of Wisconsin Hoofers Sailing Club operates what is believed to be the second largest university sailing club in the nation. It is told that there is only one larger sailing club, at the United State Naval Academy, where all cadets are required to join.
I finally joined at age 38, after my friend Hannes Beinert and his friends took me out sailing. I was pretty well hooked.
If you live in or near Madison, check it out! You do not have to be a student, faculty or staff to join! All that is required to join is a membership in the Memorial Union, which is available, for a modest fee, to the general public. (There is, of course, also a membership fee for the sailing club, but given the benefits, it is extremely reasonable!)
I also joined and continue to maintain my membership in the Mendota Yacht Club, as I was crew on an M-20 scow for one year in 1991, though I have not raced in MYC races since then. The M-2o has been supplanted by the Inland 20 (I20) scow, which features a more modern asymmetric spinnaker/bowsprit in place of the former "classic" spinnaker and pole rig.
I was a member of the Wisconsin Lake Schooner Education Association, based in Milwaukee. WLSEA constructed a (slightly modified for safety) replica of a Lake Schooner, the Denis Sullivan, of the type once common on the Great Lakes. That organization was later subsumed into Discovery World, and I allowed my membership to lapse because of their very broad mission.
Finally, I am also a continuing member of the Maritime Heritage Alliance, based in Traverse City, Michigan, where we like to vacation from time to time. MHA has already built (and sails) a replica Great Lakes Schooner, the "Madeline", and has restored other wooden vessels.
Also located in Traverse City is the Traverse Tall Ship Company . They offer day sailing daily and longer scheduled cruises from time to time on the marvelous topsail schooner, the "Manitou". Check it out!